Standard Websites that are Anything but Basic
Our definition of a standard website is one that is solely used to advertise a service, radio station, bar, restaurant or guest house for example. This type of site doesn't require the complexity of a search or order system and can usually be put together in a couple of weeks.
Just because the website is standard doesn't mean we put less effort into the Search Engine Optimisation. Each website is designed to be Search Engine Friendly, using best practices to put your keywords and relevant information in the right places and putting your website at or close to the top of search engine results.
Because we build all websites bespoke it allows us more freedom to create more diverse applications so no matter what you want from your site we can design it to fit your needs.
Coupling that with the bespoke Content Management System we build for you as well, it means that your website is designed for your needs and is built to make management of your website easier and in turn improve the profitability of your business.
Want to know more? Why not get a Free Quote or Contact us for more information.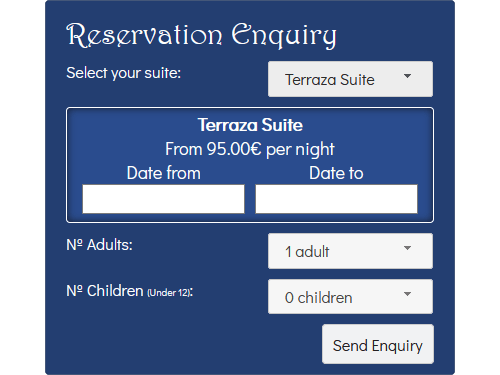 Booking or Paying Online? No Problem
A booking calendar is a great way of letting your visitors see when you have availability for your services or guest house and we can set up an easy to manage system for you.
Display available days and allow you clients to select from a calendar the days or range of days they wish to book and give your website that little edge over your competition.
If you want to accept payments for your services online we can help with this too. We have experience with setting up a number of payment gateways which allow you to accept booking deposits, or balance payments on your site.
If you would like to know more how we can help you with these solutions, why not give us a call on (+34) 600 28 49 75 or Contact us via our contact form.