Website Design in Almería
We are based in the Valle de Almanzora and have been serving the whole of Southern Spain and the UK, with various clients from locations such as Gloucestershire, Málaga, Mojácar and Alicante since 2007.

Bespoke Design and Coding
Each website we build is designed and coded specifically for your requirements.
There's no square pegs in round holes here...

Bars and Restaurants Websites
Advertise your establishment to the World, along with your menu and a table reservation system if you choose

Estate Agent Websites
Over the course of many years we have written our very own eAgent System, designed to make your estate agent website work harder to keep your clients happy

Unique Websites
If you have a unique idea not mentioned previously it's not a problem. Because we don't use any 'off-the-shelf' templates such as Wordpress or Joomla we can design and code your website for it's purpose

Like Free Stuff?
Great, because every website we build comes bundled with it's own Content Management System designed for your site so you can manage it yourself without any need for HTML knowledge at no extra cost

Need to be Mobile?
A large percentage of internet browsing is via a phone. Luckily we've got you covered as every website is built using a responsive design that fits any screen size
Website Design Agency in Almería, Spain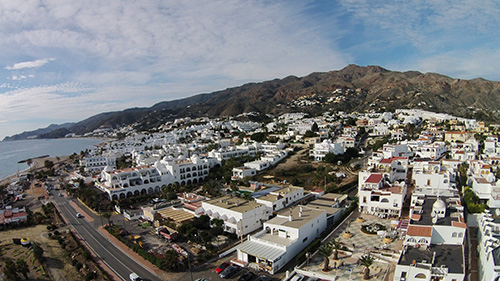 Established in 2007, we are a website design company based in Almería, Spain.
We like to keep things simple: Your website should be as unique as you are. For this reason, we try to make each website as individual as possible and start by meeting you either in person or via a zoom meeting to get a better idea of how we can tailor make your website to your needs rather than to a template.
We don't use templates such as Wordpress, Joomla or Drupal in our web design as we feel this limits the boundaries of creating a website tailored specifically for you, so all of the code of each website is custom written for the customer. This allows us to start a website with a target rather than taking a part-finished project and trying to shape it to the site you want. There are no square pegs in round holes here...
We also believe in giving our clients the ability to manage their own website without the necessity of depending on us to change the smallest details, which is why each website built is bundled with a custom Content Management System (CMS) allowing the client to make changes to their site at their leisure. This is turn lowers the cost of each website in the long run and allows clients to put their own stamp on it.
We have a transparent pricing policy, low cost setup and all websites are Search Engine Optimized and written with a personalized Content Management System as standard.
If you would like to know more about the freedom our Content Management System allows you, have a look at the individual pages for different types of sites:
Each website we build is built in a responsive format, meaning your website is optimised for viewing on any size screen. Check out our Responsive example page for more information.
Why not give us a call today on (+34) 600 284 975 or send us an email via our Contact page to find out how we can help you. If you would like more information regarding our transparent pricing policy, click the Free Quote button
Our Workflow

Consult

Design

Choice

Build

Launch

Promote
Consult
First we talk to you to get ideas of what you want from your website
Design
Then we draw some designs based on the information provided
Choice
We send you the initial design ideas to choose from which you can mix and match until we get the final design
Build
We then start building the website and CMS to your specifications
Launch
Once completed to your satisfaction the website is launched
Promote
We then start promoting your new website on Social Media to boost SEO